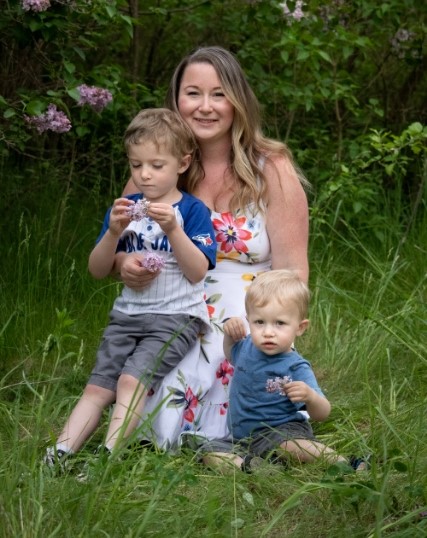 I grew up on the shores of Georgian Bay in Parry Sound, Ontario. We moved to Brantford from the GTA before the birth of our second son. It feels like home here, we love the area and kayak the Grand whenever we can. I have been amazed by the human body since I was a child and knew I would work in healthcare. I spent over ten years as a Medical Laboratory Technician and while I loved the science, I missed providing face to face care.
I struggled with breastfeeding and post-partum depression and although it was difficult, it became a turning point in my life. I discovered a passion for pregnancy, childbirth, the post-partum period and the entire wonderful/crazy journey of motherhood. I realized I could use my experiences to help others.
I started working towards becoming an IBCLC (International Board-Certified Lactation Consultant) in 2019 and hope to become fully certified in 2022. I became a peer-facilitator co-leading an online group teaching cognitive behaviour therapy to mothers experiencing postpartum mood disorders. Finally, my journey has brought me to Norfolk Roots Midwives where I am so privileged and excited to be a part of your home birth team as a second attendant.